A Guide To Maintenance Engineer Shift Patterns in the West Midlands
This week we are cutting through the noise to talk about the shift pattern, overtime compensation and extra hours your competitors offer maintenance engineers in the West Midlands. Today's article follows our post on salaries in the west midlands.
Ultimately, your business needs engineers when it needs them. So, there isn't much room to change or alter shift patterns because of manufacturing requirements.
However, this article aims to tell you:
With this information, you will be able to think strategically about how to word this section in your job advert. Or, if you are thinking about changing your shifts, it will help you figure out what options are available.
Maintenance Engineer Shift Patterns in the West Midlands
Your competition offers a range of shift patterns to maintenance engineers in the West Midlands.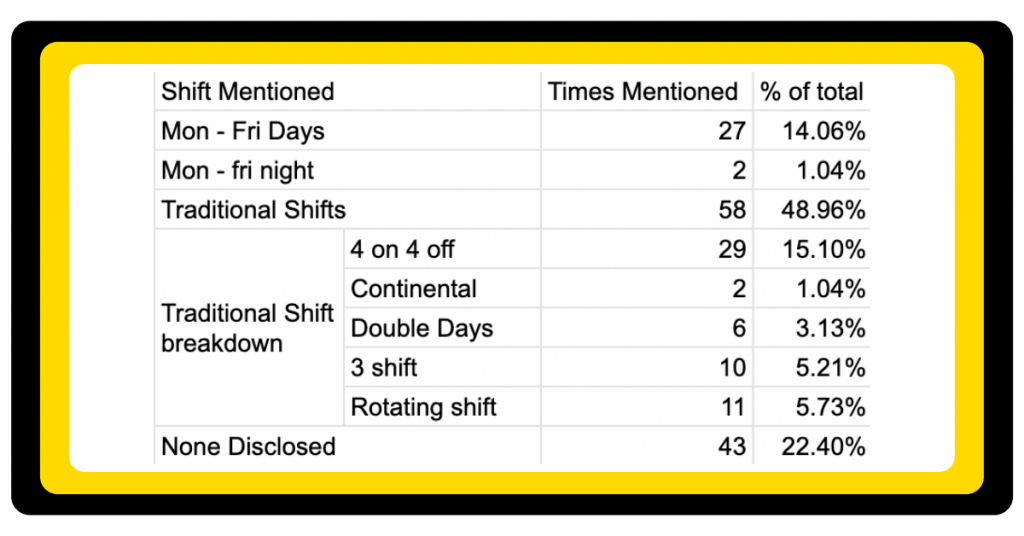 It wasn't a surprise that the more traditional shift-based work came in as the most common in the West Midlands. We found that 48.96% of businesses stated some form of traditional shift in the adverts we reviewed. Of this, 4 on 4 off was the most common shift pattern (30.85%) in the West Midlands, which makes sense as it allows 24/7 manufacturing coverage.
Due to the change in engineer expectations, many employers are now offering friendly working hours in their job adverts. With day roles, in general, equating to 38% of all adverts that we reviewed. This made day roles the second most common shift in the west midlands. On top of this, we found that 14.06% of adverts mentioned working Mon – Fri Days.
So, it's interesting to see just how common these 'time-friendly' shifts are becoming. This poses the question, are they a benefit in today's engineering world?
However, what came as a shocker to us was that nearly a quarter (22.40%) of employers choose not to disclose any shift in their job advert. This is mental as engineers need to know this, to work out their schedule and work/home balance.
Maintenance Engineer Shift Patterns: Overtime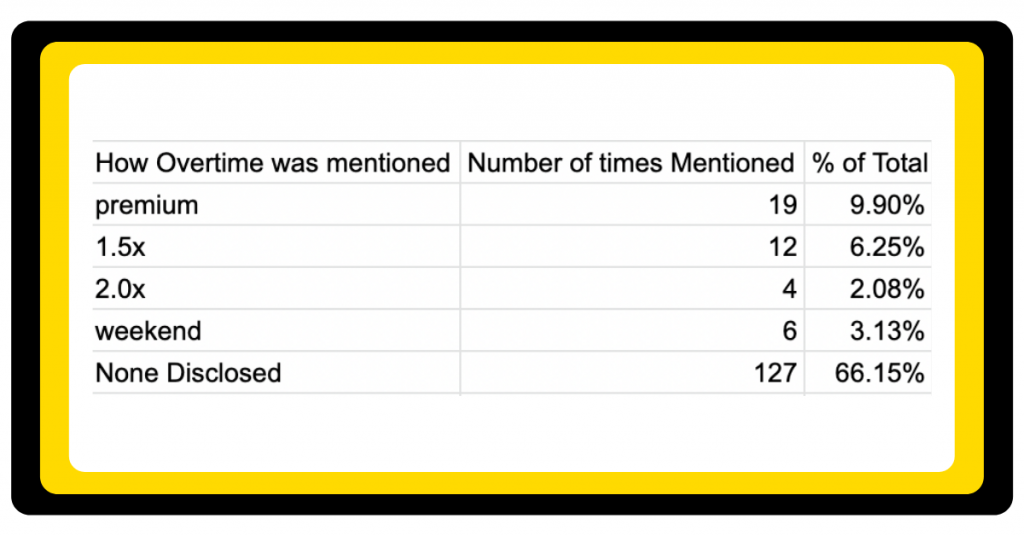 Engineers are accustomed to working overtime, in fact, many expect it due to the extra earning potential it offers. So, it was interesting to see how little information employers put into their adverts about overtime.
66.15% of the adverts we reviewed did not mention any overtime in their advert. So, there is a huge opportunity here to make your advert stand out with whatever overtime package you offer.
Of those that went into detail about overtime, it was pretty standard. With businesses offering rates of 1.5x or 2.0x. Some adverts did go that step further and mention when engineers would need to work overtime (for example, on the weekend). For us, this is great to see as it helps engineers to establish if they can make this commitment.
A few adverts also mentioned that overtime was paid at a 'premium'. Though this doesn't offer too much insight into what an engineer can earn, it is still good to see that businesses are trying to sell what they offer to potential engineers.
Some advice from our team!
We speak with engineers day in and day out. So, we have a thorough understanding of how they are feeling this pinch of rising UK Inflation rates.
With this in mind, we spoke with Jonny to gain his insight into how employers can use their overtime offering to attract candidates.
"If there is overtime, it is worth clearly stating on the advert how much is available and at what rates it is paid. As mentioned before, get this figure of average overtime earnings in the previous year.
Overtime can be the difference between someone earning £35,000 a year and £50,000 a year. In today's situation, it is now more important than ever to talk about this- with everything going up in price with UK inflation rates
Maintenance Engineer Shift Patterns: Extra hours
Stating any extra hours engineers have to work can be a double-edged sword. On one side, you should be letting engineers know what additional commitments there could be. On the other, you don't want to make the role unattractive and risk putting off too many engineers.
So, it wasn't surprising that only 16.67% of adverts went into detail about what extra hours engineers could be working. Of this, your competitors mentioned:
Weekend work;
On-Call rotas; and,
Evening work to cover breakdowns.
What is important to mention about the above is that so few adverts went into detail (or even mentioned) this, this poses a potential issue. By not including this in the advert, you could waste precious time later in the recruitment process with dropouts in the assessment stage.
We also investigated if your competition offered things like early finishes or half-days. A few of them did, but it wasn't anywhere near the level that we expected it to be.
Our Recruiters Advice
We spoke with our West Midlands Recruiter, Jonny Gardner, about how employers should write about their shift patterns in job adverts. Here are his top suggestions:
Don't be afraid of putting your shift pattern on- you might find that it might not be as unattractive as you think.
Be clear with what hours people will work.
Put this section nearer the top. So that people can see early on if they can commit to the hours.
If you have a call out rota, clearly display how this works in terms of hours and pay.
We then asked Jonny if he thinks that sharing extra hours on job adverts is a good idea here are his thoughts:
"It's important to state if there are out of hours work and any compensation the engineer receives. For example, if a breakdown happens at the end of the shift and they have to stay over two hours to fix it, are they getting any additional pay for this? Or are they expected to fix this as part of their job with no compensation?
We've found that communicating this clearly is important, as this is one of the reasons why engineers look to leave a role- if they are constantly finishing late and not being rewarded for their efforts.
In Summary
The key takeaway about shift patterns in the west midlands are:
Businesses need to make what hours engineers work obvious and clear.
Use the extra earning potential to your advantage by showcasing this.
As we mentioned, there often isn't too much leeway with shift patterns. But, if you are thinking about changing them, we would always recommend running an internal survey to determine what the team's preference is.
When talking about the shift pattern in your job adverts, it's best to be clear and concise. Whilst there is a possibility that this can put some engineers off, you'll speed up the recruitment process by mentioning the shift as early as possible.
In addition, if you offer things like enhanced over-time pay, flexible starts, early finishes or shutdowns, these should be mentioned in your job adverts. As it will help to set yourself apart from the competition and encourage engineers to apply.
What's next for our hiring insights in the West Midlands?
The next part of our series goes through the holiday and pension contributions your competition is offering engineers in the West Midlands. This article covers the West Midlands as a whole. If you are interested in learning more about your region, reach out to our team to get this insight!
Share your thoughts with us!