A New Direction
Our new website is live!
In this blog, we will talk about the updates we have made and why we did them. Firstly, we wanted to talk about employer branding. We all know about the importance of having a strong employer brand for hiring. It makes it easier for candidates to find you, then streamlines the onboarding process, for many, it also improves retention.
We are, of course, still bananas about recruitment. But, we no longer felt that this branding matched our direction.  As we are Specialists in Recruiting Specialists.
Meaning we live and breathe our industries. After spending years understanding our sectors unique requirements, trends, challenges, and opportunities. All to create a recruitment service that really supports our customers and makes everyone find their happy Monday again – after all yellow is the colour of happiness.
How does this change benefit you?
You might be thinking, why does this matter to me?
Well, with this new direction, we're want to solidify our position as a specialist recruiter within the Manufacturing and Building Products sectors.
As an employer
With the changes we have made, candidates will find it easier to find and apply to roles. This will enable us to continue to grow the network of Engineers and Salespeople you need on your team (which already consists of over 10,000 candidates).
However, we are also working on campaigns to get more people into the industry. As a result, we have formed partnerships with universities, colleges and organisations to promote the manufacturing and construction sectors. We want our website to show the options these careers have. Which we hope will aid in closing the skills gap currently prevalent in these sectors.
---
As a job seeker
We have made your job search that bit easier. Adding a variety of ways to search for your ideal role. You can now filter by Job Title, Location (a radius search from your home), salary scaling, category and type. So, you will be able to quickly find jobs that match YOU.
You can still register on our website. In fact, you might have to re-register if you signed up on our old one. By registering, you will be added to our database. This means that, when we have a role that matches your requirements, we will come to you. Which takes a lot of the heavy-lifting out of your job search.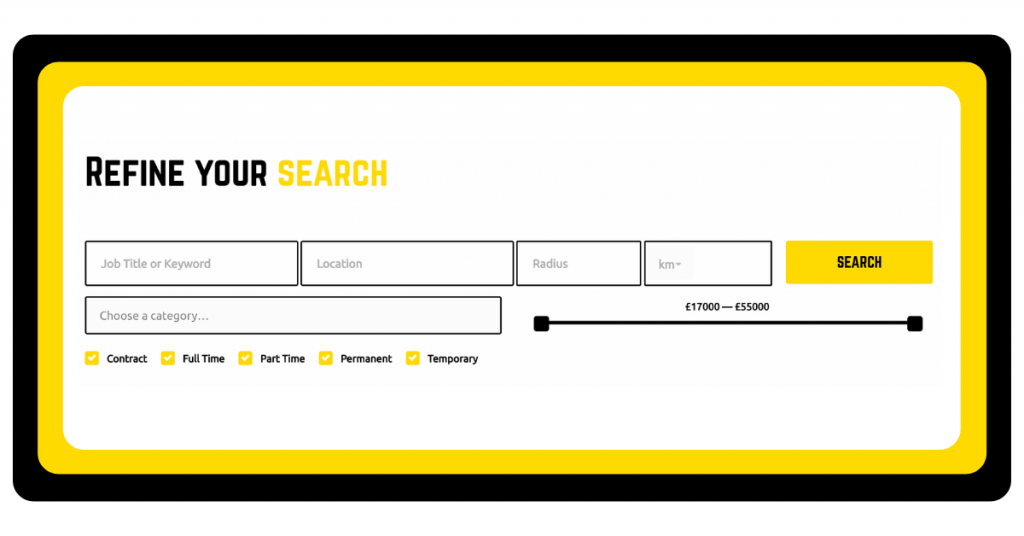 Where we plan to go from here.
Finally, this new design is just the start of the enhancements that are to come.
We have developed a highly consultative approach to recruitment, as we want our service to be an extension to our customers. . So, we are working on improving this part of our website.
We have a few ideas in mind. For example, we want to create a range of resources and articles that will help you understand the hiring market, your opportunities within it and how you can find success.
Why does a recruitment agency want to do this?
As we want to be the place to be if:
You are an engineer looking for work
Are someone looking to get into the building products sector
Want to learn how to improve your recruitment strategies
Are thinking of being a recruiter
To conclude, we are specialists in recruiting specialists! So, we will support you the #StirlingWay.
Are you looking for work?