Help the Homeless in Leicestershire
Can you imagine being too scared to close your eyes at night? Think about how you would feel waking every morning cold and alone. This is the case for so many rough sleepers and so we decided to get in touch and help out at one of our local shelters; the Falcon Centre, Loughborough, ran by the Falcon Support Services.
According to the latest research by Shelter, a whopping 320,000 are homeless in the UK! And even more worryingly, this is an increase of four per cent on last year's figures. Sadly, this equates to one in every 201 Brits. And this is only the people we know about. In addition, there are an uncertain number of 'hidden homeless' who are unknown to authorities, including people staying with relatives, sofa surfing or sleeping in cars or the countryside.
A staggering 726 people died whilst homeless last year. This is an increase of 22% in 2018 compared to 2017; the highest year-to-year rise since this data began being collected. The average living age for men on the streets is 45 years old, whilst for women it is only 43 years old – compared to 76 years and 81 years for the wider population.
This is why charities providing shelter and support, such as the Falcon Support Services are so important. Their vision it to support vulnerable homeless people to transform their lives, enabling them to live independently and positively contribute to their community.
At their largest Loughborough site, the Falcon Centre, they offer 30 en-suite rooms, a communal area and catered accommodation. As well as providing accommodation, the centre hosts a number of social activities including cooking workshops, Lifewise training sessions on tenancy management, quiz night, art and craft sessions, pool competitions and film nights.
And they haven't stopped there. 2019 has shown a year of drive and expansion to support local, vulnerable people including opening additional shared houses, opening of The Annex (a specialist service helping sex workers) and creating a new Youth Club to support the younger generation who may be struggling with poverty, mental health or facing general day to day struggles.
2020 looks to be another exciting year for this charity and all the passionate supporters and staff. They are looking to open more drop ins, offer more support services and open a designated women's housing shelter.
Here at Stirling Warrington, we are passionate about helping charities where we can so we got in touch and asked where we could help! The members of The Falcon Centre were more than happy to take us up on our offer and so a group of us gave up our Friday and went along to paint a corridor, ceiling and re-gloss door frames and skirting boards. We were lucky enough to get an insight to the amazing work this charity is doing and to see how much they are helping people in difficult situations.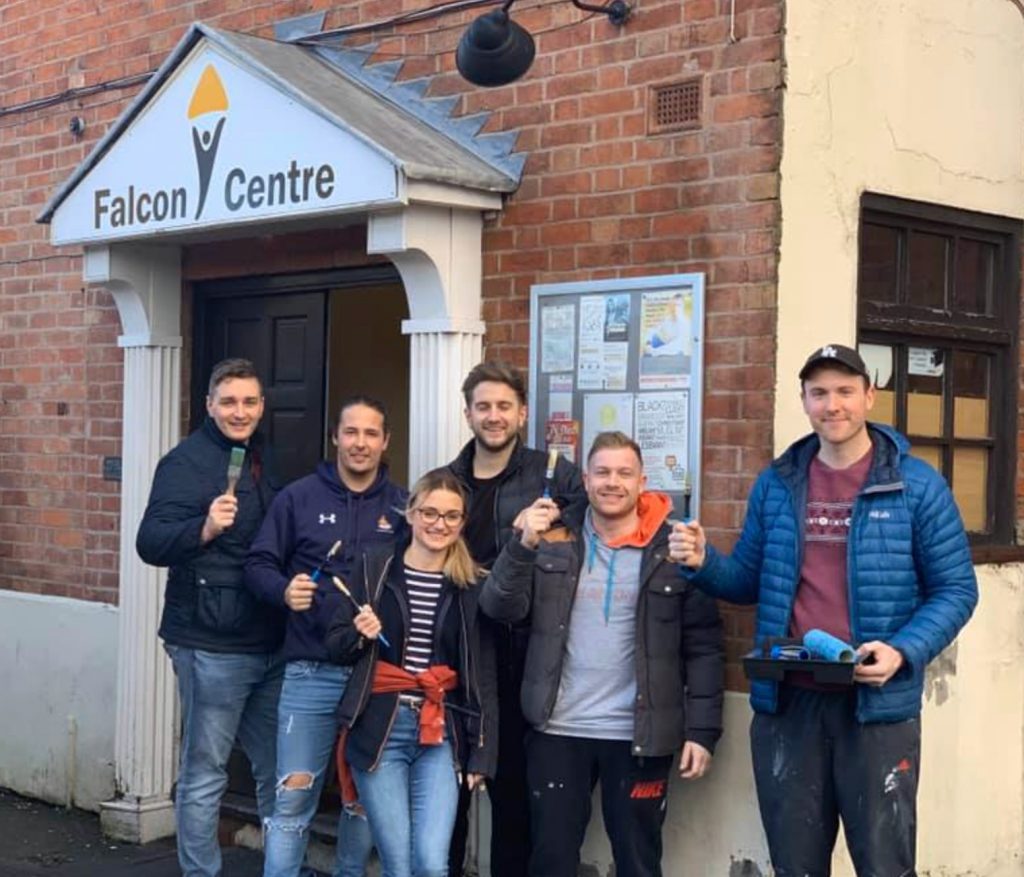 The Falcon Centre will also be opening their doors Christmas Day to offer a hot meal and gift so no-one in the area has to be alone this Christmas. If you would like to help them achieve this goal, here is the link for more details on how to donate:https://www.globalgiving.org/projects/help-the-homeless-in-leicestershire-this-christmas/
Want to find out more about their services and the people they help? Have a read of this fantastic article and check out their website:
https://www.globalgiving.org/pfil/43366/projdoc.pdf
https://www.falconsupportservices.org.uk/falcon-centre
People from all walks of life can end up in a vulnerable position, it could even be you someday. As a team, we will continue to support this charity with anything we can whether it be more painting, fundraising or assisting in the soup kitchen. So why not get your team involved too? Wherever you are in the country, there will always be a charity similar that could use your support.
Here at Stirling Warrington we have a full year planned for supporting a variety of charities and creating sustainability campaigns so keep tuned for more updates!