A Guide to Holiday and Pension Packages
The next part in our West Midlands Hiring Insights series, goes through the holiday and pension packages businesses in the west midlands offer maintenance engineers- this follows our guide to shift patterns.
The holiday and pension package you offer engineers is swiftly becoming a unique selling point. Many engineers now consider this a major part of their career move. As a business, this means that you should be thinking of this package as another benefit to your business – not just a legal requirement!
After reading this blog, you will be able to:
Analyse your current offering against your competition (we've broken down the packages by shift and pay for further insight)
Learn where and how to include this information in your recruitment campaign
Like in our previous articles, our recruiters will also share their insight into the impact this has on employers and how you can use this information to your advantage.
Maintenance Engineer Holiday Packages
All of us are entitled to 20 days of holiday plus 8 days for bank holiday. So, when 61.46% of adverts didn't include any information, it's safe to assume that they will offer this (at a minimum). But, what about the businesses that did go into detail about it?
Here is the Holiday entitlement that your competitors mentioned in their adverts.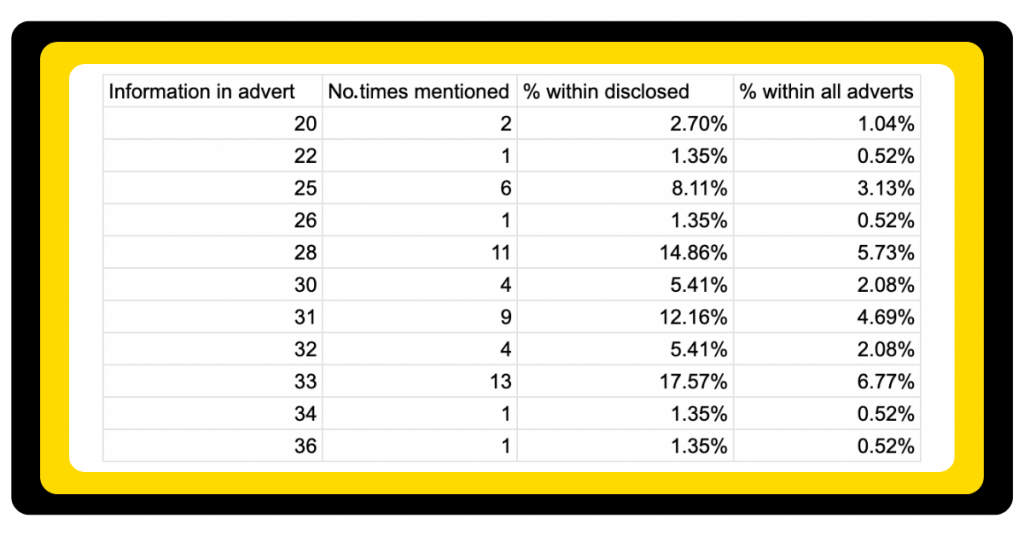 As you can see, there is a vast array of holiday packages currently being offered to maintenance engineers in the west midlands. However, we can see that more employers are offering their maintenance engineers larger holiday packages.
Some businesses choose to display their package even though it's the statutory requirement. But this level of detail is great to see, as it provides engineers with much-needed clarity on what you offer.
It was refreshing to see that only a few companies described their package as generous, competitive or just holiday package. We'd never recommend calling your holiday package any of these terms. Simply because it offers no information on your package.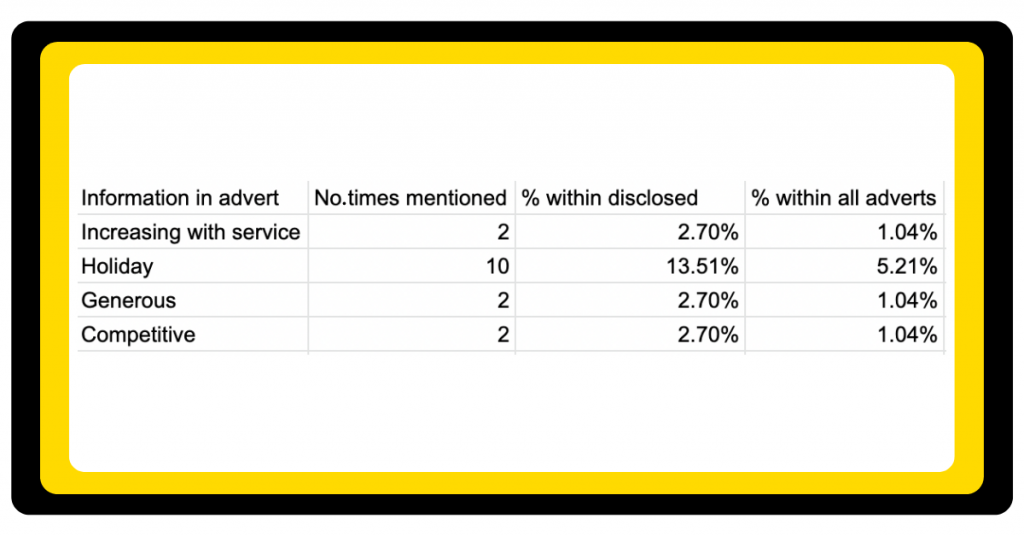 These terms can also negatively impact your employer brand and reputation. As they're quite suspicious, engineers might think: if it's that competitive, why won't you tell me?
What do the holiday packages look like without bank holidays?
When we were looking into this, we found that nearly all adverts did not disclose if the holiday displayed was inclusive of bank holidays.
However, from our experience, many businesses like to display packages as inclusive of bank holidays. This makes sense as it is the total allowance that engineers have and (depending on your manufacturing requirements) some businesses are open on bank holidays- so engineers can use this time elsewhere in the year.
If we assume that all holiday allowance (above the statutory requirement) is inclusive of bank holidays, this is the base value that employers are offering engineers.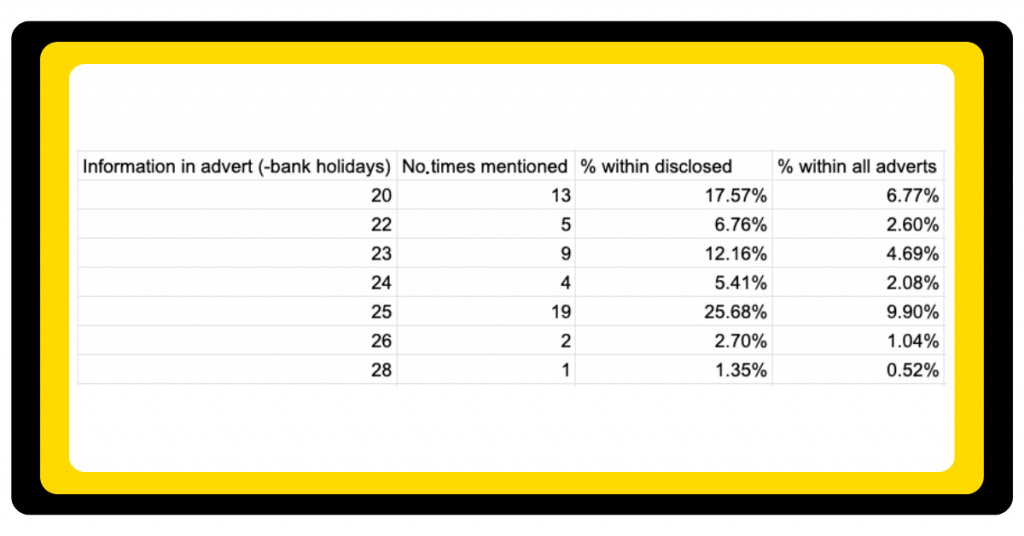 What is interesting to see is that most employers offered 25 days as their holiday package (25.68% of businesses that mention it in their adverts, or nearly 10% of all adverts). This was just over 8% higher in frequency compared to the statutory 20 days holiday entitlement- which is a huge difference.
Holiday package based on shift and salary
To provide you more insight into the full package that your competitors are offering maintenance engineers, we wanted to break this down into the shifts and salaries that we're also offered.
So that you can see the full package that engineers are being offered in the west midlands. We choose to focus on the most frequently offered holiday package (20, 23 and 25)
Shift Patterns
The shifts did vary a lot, but the Mon-Fri shift pattern did feature the most. However, here is an overview of the shifts:
20 days

Mon – Fri Days, 4on/4off, 2 days, 2 nights 4 off

23 days

Night shifts, Double Days (most common), Mon- Fri

25 days

Mon – Fri Days (most common), 3 shift, 4on/4off and Nights
Salary
Based on the most common holiday packages, these are the salary brackets that employers offered:
20 days

£32,000 – £42,000 per annum (with a lowest of £28,000 per annum)

23 days

£34,000 – £42,000 per annum

25 days

£36,000 – £47,000 per annum (with a lowest of £28,000 per annum)
What does this mean for employers in the West Midlands?
Well, we think it shows how businesses are becoming aware of the shift in their engineer's needs. We're finding that many engineers want to improve their work/life balance, so businesses are looking for ways to retain their staff without just bumping up base salaries.
We asked Jonny Gardner for his thoughts on the holiday packages that businesses are offering maintenance engineers in the west midlands:
"The holiday packages do seem to be improving.
I am also seeing more and more companies allowing employers to buy and sell holidays. This is a really good idea as it allows people to be flexible about how much holiday they need/use.
Maintenance Engineer Pension Packages
Several employers choose not to provide any detail about their pension packages in their adverts. In fact, 55.73% did not disclose any information. Again, we can assume that many implement the statutory 3% pension contribution.
Of those that did talk about their pension scheme, 64.71% did not use any breakdown and instead opted for phrases like Pension, Pension Scheme, Company Pension, Lucrative Pension. Again, these phrases don't offer any real value to engineers looking to join your business- they can also damage your reputation.
However, some employers had some really interesting pension packages that you could emulate. Including:
Split offerings (where the employees put in a higher percentage than the employee). These ranged from 6-7% employer and 5-6% employee contributions.
Some offered to match whatever the employee wanted to put in, with some implementing a +x% as well.
The most frequent pension package was at the 10% mark (but this did not break down the employer/employee contributions)
What should employers do with their Pension Package?
There are a few options for businesses with regards to their packages and how they can use them to their advantage when hiring. Once again, we asked Jonny to share his insight into this:
"The fact only just over half of employers mention the pension package is scary when you consider that one of the top reasons people look to leave is to better their current package and this includes pension.
If you have a very good pension offering, make sure you include this in your adverts!
In Summary
With many engineers looking to improve their overall package, and not just salary, it is becoming increasingly important for employers to include all aspects of their offering in adverts – or any part of the recruitment campaign. However, employers should be transparent with what they offer engineers. So, the more detail the better.
Some employers might be reading this and think I can't match this offering. This is understandable, especially for smaller businesses. However, there are ways that you can make your packages more attractive, such as:
Allowing engineers to buy and sell holiday
Having holiday and pension contributions increase with service
It is imperative to ask your engineers for their thoughts before implementing any changes. By including them in these decisions, you'll be able to move forward knowing that what you're implementing will be received positively. In addition, you might also see retention rates and employer brand improve. As people truly value being involved in these decisions and processes.
What's next in our hiring insights campaign?
Next, we are talking about the training and progression opportunities your competition offers their engineers. So, stay tuned for that update.
Share your thoughts with us!